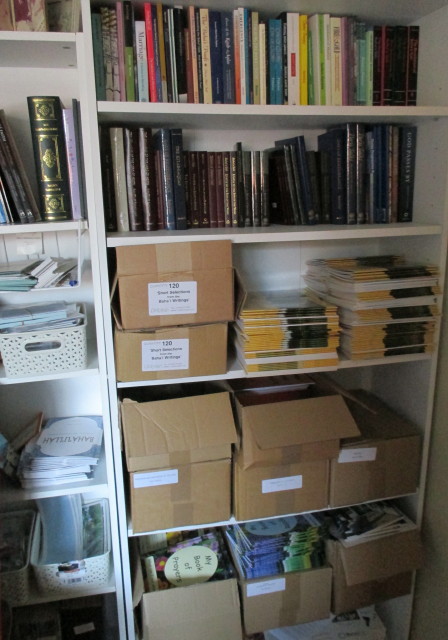 About us
The "Bookshop" is not a shop which is open to the public. It is run from home by volunteers. Orders and queries are usually dealt with promptly but there may occasionally be unavoidable delays.

The Bookshop began life in 1975 as a local distributor of Bahá'í books. The first leaflet was published in 1989 and the first book in 2012. We are grateful to Clintplan in Southam who print all our publications and have given us excellent service over many years. More than a million of our leaflets have so far been printed in this country and many more under licence overseas.
The Bookshop belongs to the Spiritual Assembly of the Bahá'ís of Leamington Spa, although it is now based in Southam. For historical reasons, it still uses the name of Warwick.
Apart from publishing our own books, leaflets, RE materials and games, we provide bookstalls at events and post items across the UK. We also supply overseas distributors with our own publications and give permission for translations as required. For details please contact us as described below.
Contacting the Bookshop
E-mail us at enquiries@warwickbahaibookshop.co.uk.
The address of the Bookshop is:

Warwick Bahá'í Bookshop,
Mr. and Mrs. Vickers,
The Haven,
6, Welsh Road West,
Southam,
Warwickshire,
CV47 0JN.

The telephone number is 01926 817291 within the UK.
From outside the UK: +44 1926 817291.