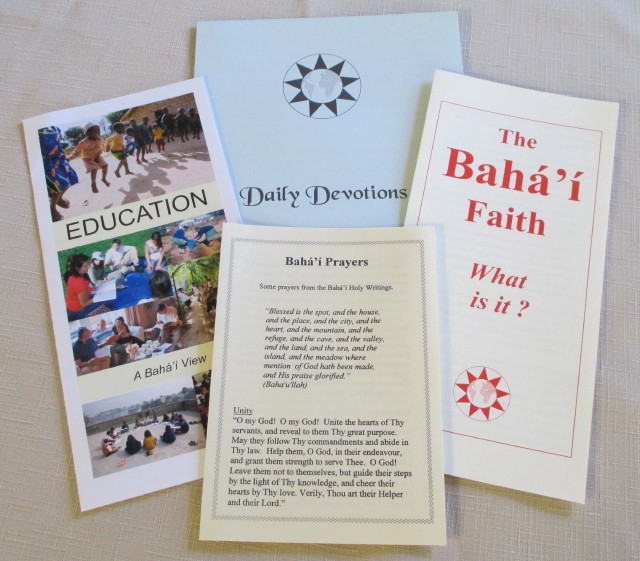 In 1989, we began producing a series of leaflets known informally as the "Warwick leaflets", which were marketed in North America as the "Star Series". There are now over 60 titles.
There are 3 types of leaflets:
The 'Enquirers' series which are A4 triple fold. They are suitable for everyone as they give a basic introduction to each topic from a Bahá'í point of view. They cost 10p each. A few are full colour (as marked below), the others are mainly 2 colour.
The 'Believers' series are A5 single fold and also cost 10p each. These are more suitable for those who are already Baha'is, particularly new believers. However, one of the titles in this series gives the information necessary for enrolling in the Bahá'í community. The others give a summary of the laws, structures and teachings of the Faith and are ideal for reference. There are currently 4 titles in this series but more are planned.
The 'Presentation' series are to give to someone as the occasion arises. They are A6 single fold and cost 5p each.
Below is a list of the leaflets available in each series:
Enquirers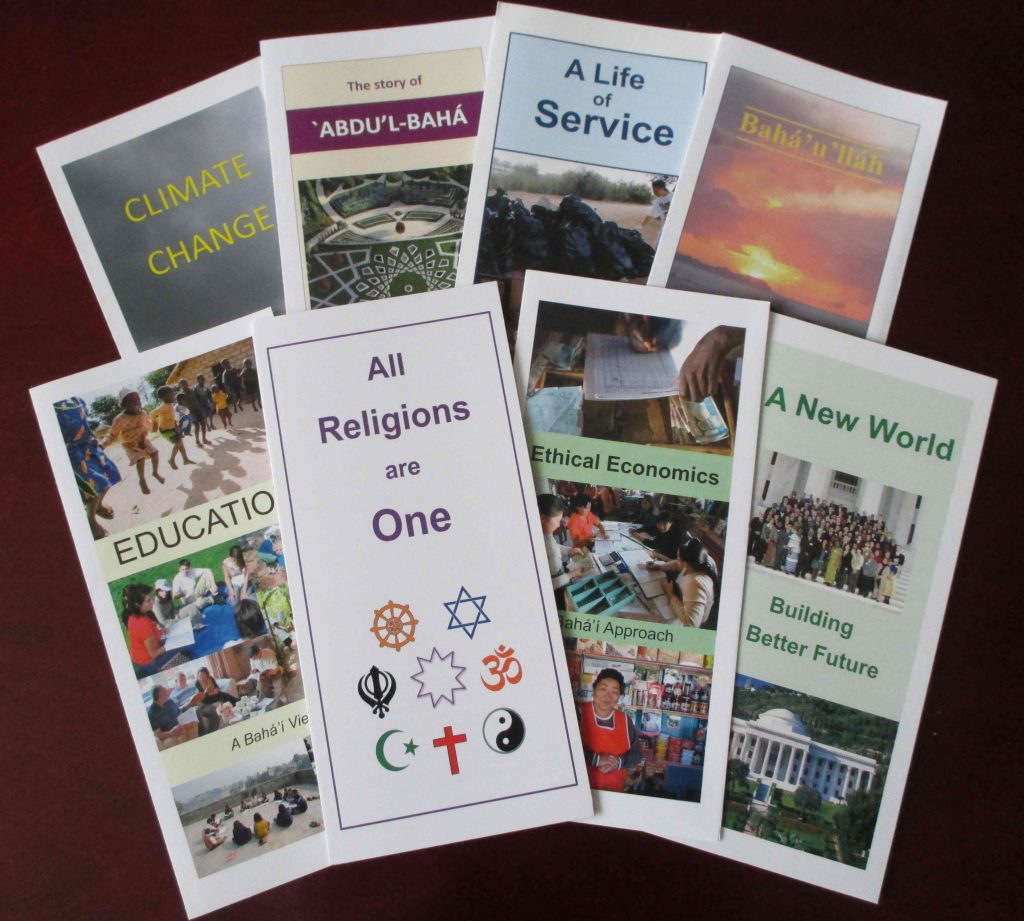 Bicentenary of the Birth of the Báb (full colour)
Bicentenary of the Birth of Bahá'u'lláh (full colour)
The Bahá'í Faith – A New Religion for a New Age (full colour)
The Bahá'í Faith – What Is It? (basic introductory leaflet)
Cyflwyno'r Ffydd Bahá'í (Welsh version of What Is It?)
The Bahá'í Faith – Being A Bahá'í (a simple guide to Bahá'í laws)
The Bahá'í Faith – How It Began (brief history)

Bahá'u'lláh – The Promised One – see text
Bahá'u'lláh – Messenger Of God
Bahá'u'lláh (simple text)
Abdu'l-Bahá – the Master – see text
A Life of Service – following the example of Abdu'l-Bahá – see text

The Nature of God
Prayer and Meditation
The Life of the Soul (on life after death)
The Meaning of Suffering
Why Are We Here? (on the meaning of life)
Words of Inspiration (Bahá'í quotations on personal behaviour)
Good and Evil
Fasting and the Bahá'í Fast

Bahá'í Marriage
Family Life

Health & Healing – A Bahá'í View
Food and Farming
Treatment of Animals
Caring for the Environment
Sustainable Development
Climate Change – a Bahá'í View – see text
A New World – Building a Better Future
Bahá'í Consultation – Making Successful Decisions
Bahá'í Administration (how Bahá'ís are organised)
God's Promise To Humanity (the eternal covenant of God with man)
The Way to World Peace
Freedom From Terrorism
The New Age
Space – The Final Frontier?

One Human Race
The Status of Women (on equality)
Religion and Science
Ethical Economics – A Baha'i Approach – see text
Education – a Bahá'í View – see text
Freedom Of Speech

All Religions Are One
The Return of Christ
Christianity and the Bahá'í Faith
Judaism and the Bahá'í Faith
Hinduism and the Bahá'í Faith
Buddhism and the Bahá'í Faith
Sikhism and the Bahá'í Faith
Islam and the Bahá'í Faith

The Bahá'í Faith and Queen Victoria
The Future of Monarchy
Abdu'l-Bahá in Britain
Believers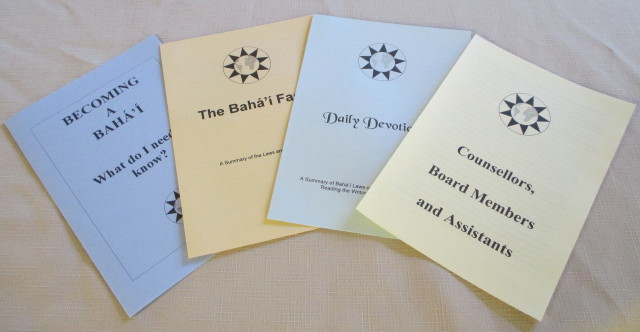 Becoming a Bahá'í – What do I need to know? (This is an aid to inviting people to enrol, explaining very simply what they need to know before joining the Bahá'í community)
Daily Devotions (A summary of laws on prayer, meditation and reading the Writings)
The Bahá'í Fast (A Summary of the laws and principles)
Counsellors, Board Members and Assistants (An explanation of the 'Appointed Arm' of the Faith)
Presentation
Bahá'í Prayers (9 short prayers)
Life after Death (particularly helpful for the bereaved, will fit inside a sympathy card)
Bahá'ís and Christmas (An explanation of the Bahá'í attitude to Christmas and New Year celebrations)
Dear Parent (open letter to parents reassuring them about their child's involvement with the Faith)

The text of some of our leaflets can be seen here:
The others can be found here:
Sample sets
A sample set of one of each leaflet costs £8.00 including postage.
(Please contact us for prices outside the UK.) We are sorry there is no facility to order online, but for orders and enquiries mail us with your request: