Teachers' packs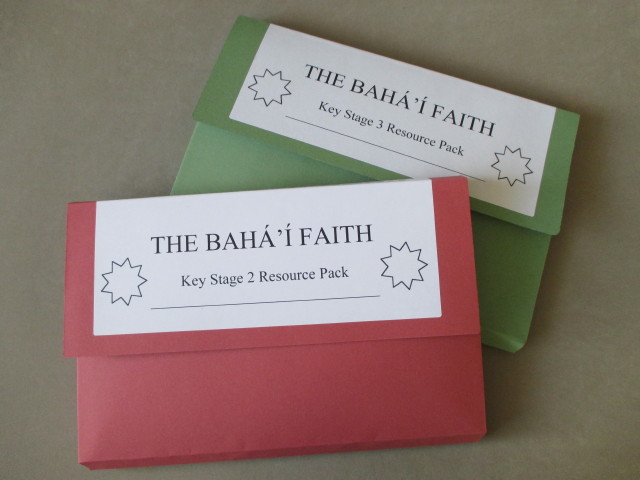 We have teachers' packs for Key Stage 2 (7 to 11-year olds) and for Key Stage 3 (11 to 14) available to buy. Free materials for these age groups and for Key Stage 1 (5 to 7 years) can be found online at the Bahá'í RE site. Each teacher's pack contains a set of worksheets (described below) plus suitable books, leaflets and photographs. Each pack costs £15, or £18 including postage. Mail us an order or enquiry.
Worksheets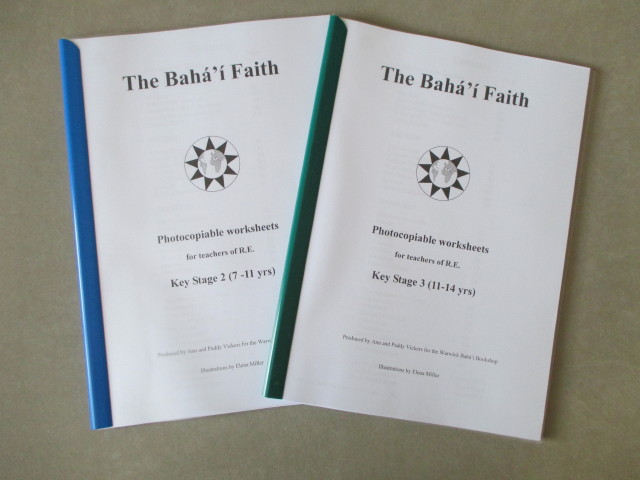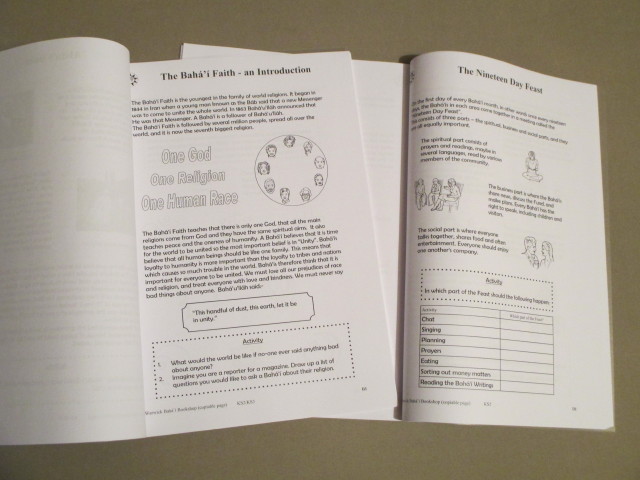 The worksheets on the Bahá'í Faith are designed for use by RE teachers in schools. They may also be useful for parents or Bahá'í children's class teachers. One is for Key Stage 2, the other for Key Stage 3. Each set consists of 29 different worksheets including activities suitable for the age group. Worksheets can be viewed and downloaded free of charge via the Bahá'í R.E. site.
Alternatively we can provide a printed copy for £3.20 plus postage. Teachers may legally photocopy the materials as many times as they wish for their pupils' use.
The following is a list of the worksheets included in each set:
Holy Figures
The Báb
Bahá'u'lláh-Early Life
Bahá'u'lláh's Announcement
Bahá'u'lláh in the Holy Land
Abdu'l-Bahá

Basic Beliefs
Introduction
Oneness of Religion
Religion Through Time
World Unity
Holy Books
Symbols
What is God Like?

The Individual
The Purpose of Life
Prayer
Daily Devotions
The Fast
Funerals
Children
Marriage
How to Behave

The Community
The Nineteen Day Feast
Community Life
Holy Days
Houses of Worship
Pilgrimage
Organisation
Bahá'í World Centre
Women
The Environment
Houses of Worship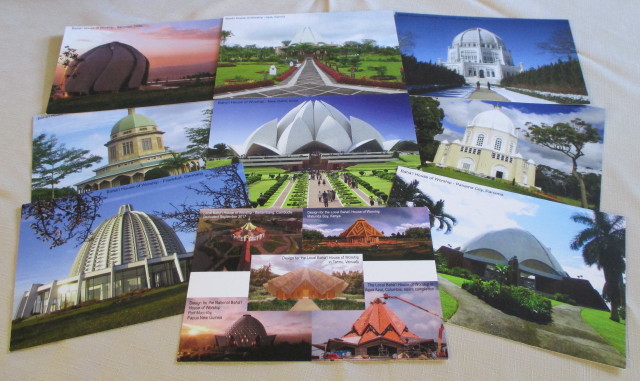 Each teachers' pack contains photographs of various Bahá'í Houses of Worship across the world. For details of these, or to buy them separately, see Other Items.
To order any of the above items, visit the: